KNowledge. Confidence. Results.
Ready to make Things Happen?
Your Trusted Personal Training Services
Hello and Welcome to True Personal Training!
At True we take personalisation to a whole new level. Offering both 1:1 and our proven concept of shared personal training, we provide unlimited personal training, group personal training, and nutritional coaching as part of a monthly membership package at our personal training gyms in Wetherby and Guiseley.

Our complete solution is personal, flexible, and gives you a premium service with affordable pricing. With no joining fees or long-term contracts, it all starts with a 1:1 consultation where we discover more about you and your goals so we can create your bespoke program and journey.

Contact our team today to schedule your consultation if you want to tone up and lose weight, begin a change in lifestyle or take your training to the next level.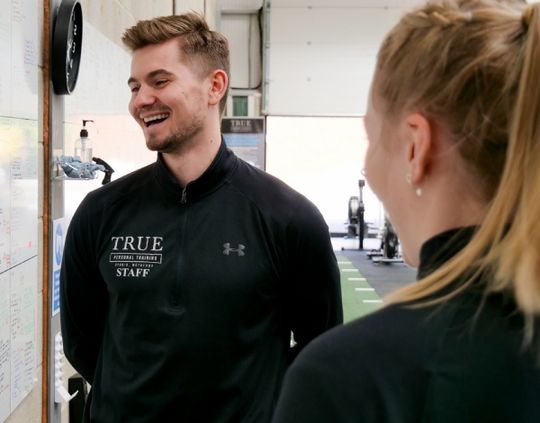 Shared Personal
Training Services?
Our Shared Personal Training Memberships are different. From our initial call to your 1:1 consultation, crafting your bespoke program and your personal check-ins beyond – everything is tailored around you, your goals and to meet you at your starting point. Because personal training should truly be personal, not just a tagline.

You can book unlimited sessions at any time, fourteen (14) hours per day, you simply share the personal trainer's time with a maximum of four (4) other members. You don't need to bring friends or create groups—you simply book in at a convenient time, and we will be ready for you!

Shared Personal Training is a highly personal, time flexible and affordable way to get all the guidance, accountability and expertise you need to achieve your path to progress and resutls in a group personal training setting. Your monthly membership starts with a consultation and includes the following:
Shared Personal Training?
Unlimited Shared Personal Training Sessions

Nutritional Guidance

Bespoke Programming

Accountability and Ongoing Support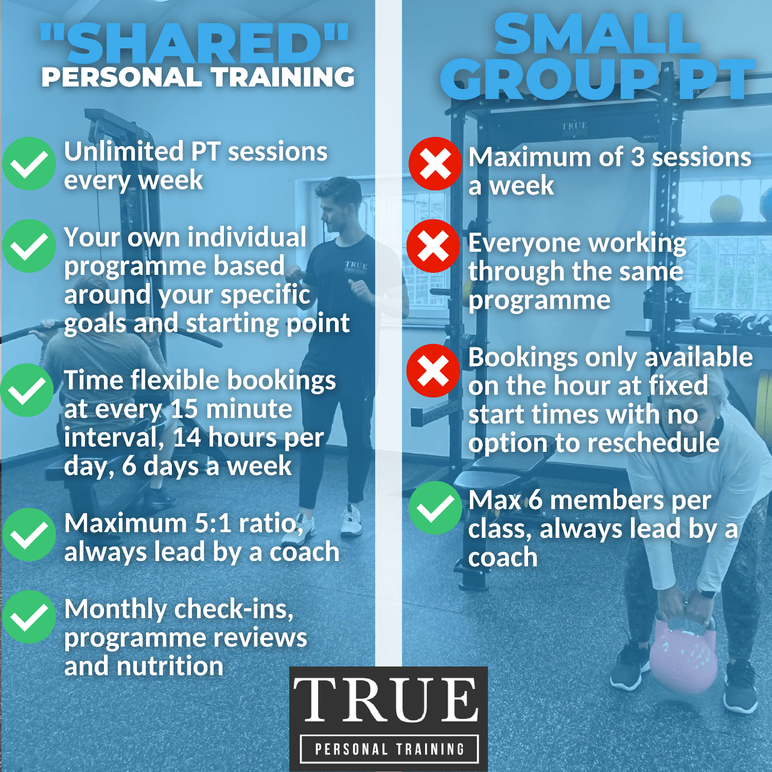 How does it work?
There are no sign-up fees and contracts, and we always start with a free consultation.

Step 1 – Arrange a Consultation
Whether you have a 1:1 or shared membership, your consultation and taster session will help us understand your goals and plans.
Step 3 - Book Unlimited PT Sessions
Book for an unlimited number of sessions (at a time of your choice) where an expert personal trainer will guide you through your bespoke workout alongside no more than four (4) other members to one Personal Trainer.
We remove the uncertainty around training and nutrition. Our personal training services solutions give you the guidance and advice you need to keep moving toward your goal.

A highly personalised experience
Everyone has different goals, requirements and starting points. We focus on you, so you're always working on your bespoke programme under the expert eye of a personal trainer.

Our Nutritional Guidance & history of results
We know the world of nutrition can be overwhelming. We keep things simple. We don't do fads, and we don't do diets. We get you eating smarter, training more efficiently and thinking differently via our educational module system, seminars, and nutrition clinics.

Unlimited service and suport
Fancy an extra session this week? No worries—just book at a time that suits you, and our personal training services team is here for you.

Seriously flexible bookings
Is your schedule packed? No problem—create your schedule and book unlimited sessions at times of your choosing within our opening hours.

Our Genuinley Welcoming Team and Friendly Community
We are a friendly community of trainers and members with a common goal. Whether you want to get rid of a few pounds or get healthy for life, we have a culture of working hard in a social and fun environment.

Our Facilities
Our 2500 sq. ft. facilities have been designed and fitted by Origin Fitness. With your comfort in mind, we have private changing rooms, a training towel service, and a complimentary fruit and coffee area, amongst other perks, to make your experience comfortable.